Regular price
Sale price
$89.99
Unit price
per
Sale
Sold out
Build Your Own Koality Box!
You Pick It, We Pack it!
Design a box that's perfect for YOU! (Or a loved one!)
Pick all 8 items to make your own custom Koality Box for only $89.99. Your box is valued anywhere between $150-$200+ depending on the items you select!
All of Our Build Your Own Koality Boxes now includes your choice of 1 Koality branded item! 
Build your own Koality Box by selecting the exact items you want in your box! All items will be fulfilled based on your color preference(s) selected but if we do not have your selected item in your color preference we will provide you your selected item(s) with an alternate color. (We recommend selecting more than 1 color option to help us fulfill your box!) Mixed Colors means you are open to all colors and a piece with more than 1 color. 
**Please note that requests for items in the notes are not guaranteed items you will receive**
*Disclaimer: If you select a nectar collector and torch as your main piece, you don't have to pick a torch again unless you want 2 torches in your box. Torch options not recommended for international orders outside of the U.S. as your package is more likely to be seized by customs. The 420/710 option for your box preference will help us fulfill your box with smoking accessories (we do not include any THC products in our boxes). 
 By selecting a bong or rig for your box includes a bowl piece or banger. You will receive an additional bowl piece or banger if it's selected again under the "Pick 4" tab. Please note once your selections are made for your items and your order is submitted, we cannot make any edits to your selections.**
Order Processing Times: All orders are processed and shipped out within 2-3 business days following your order placement date (this does not include the shipping time selected at checkout). Please e-mail info@koalapuffs.com for any inquiries about your order. 
Share
View full details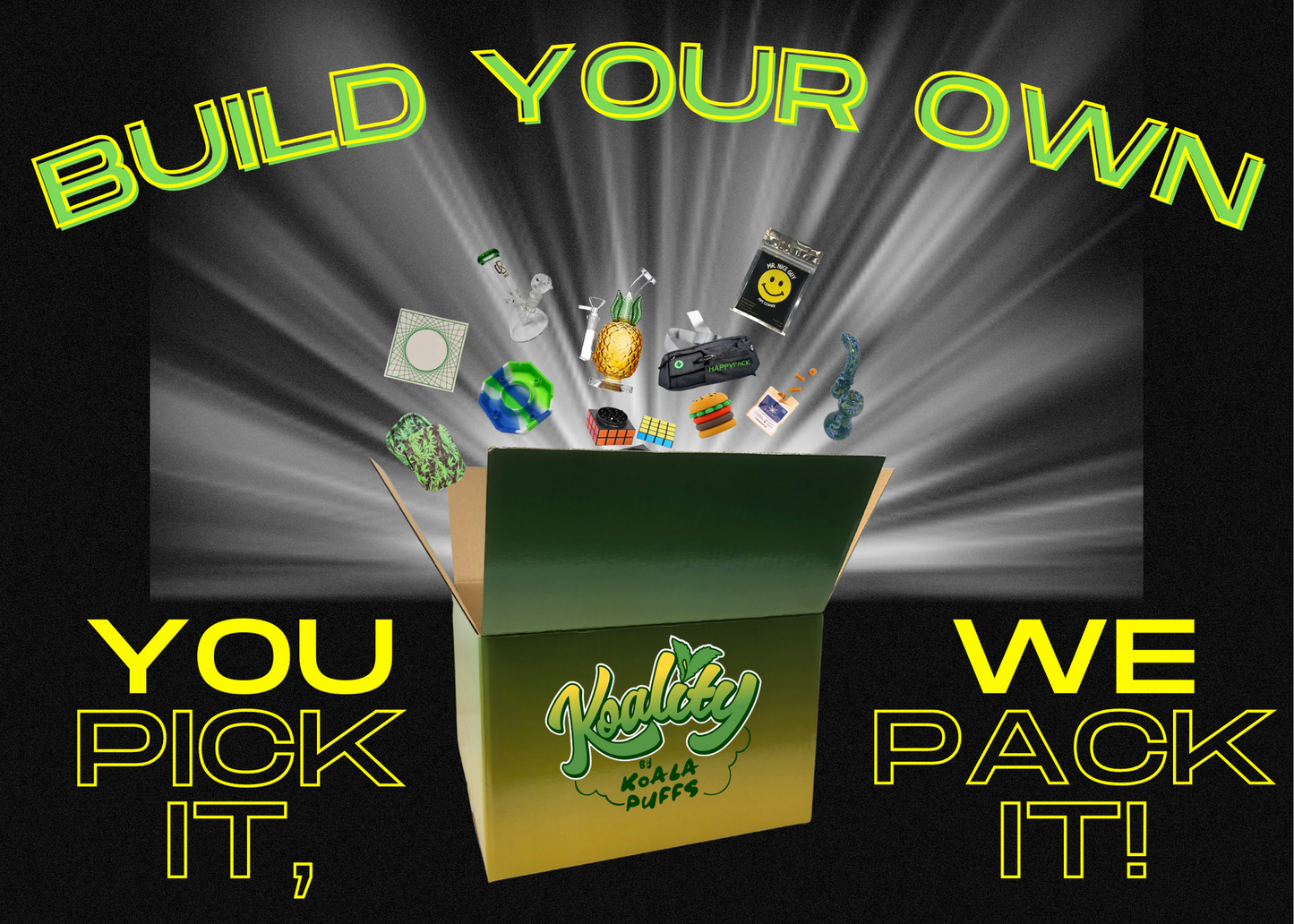 Best thing out there
Best subscriptions I have ever gotten. I have gotten six boxes and I love each one.
Fourth time buying a build your own box. Normally beyond satisfied. I get what I ask for and more. Ordered a box for my girls birthday and the bong came cracked. We got nothing we requested. Big let down. Is there any way I can send the bong back for an exchange? Ordered a bubble butt bong
Build a box and imperfect piece
Love love love my box!!! Putting in a extra little piece was even better! My "imperfect" piece was perfect! I didn't even see a defect! These boxes are like little presents I love them so much!
Koala Customer For Life!
Always the best boxes. I got my box just as fast now as I did my first box 2 years ago! No matter how big Koala Puff gets as a company, the customer service is always top notch. I got the most beautiful rig I've ever owned! Thank you so much Koala Team. You all do a great job!!!
The BEST gift!
Koala outdid herself with this box! I got everything I asked for, plus more! The koality (quality) of these boxes are absolutely AMAZING. The glass is thick and the accessories are amazing. I cannot wait to order another one and lots of other things from her. Thank you for being you and having such a fun business that you love to share with others! <3